Stay up to date with the latest news and updates from Save Capel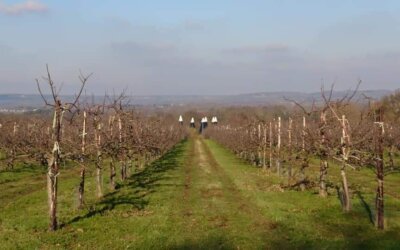 Tunbridge Wells Borough Council (TWBC) has released a draft of its Pre-Submission Local Plan (PSLP), which, if signed off by three Council committees between January 11th and February 3rd, is due to be put out for consultation in March/April (known as Regulation 19)....
read more
Four ways you can help us Save Capel
Sign our petition to show the strength of resistance to the plans for Capel
Make a donation to support the costs of saving Capel
Become a member and have your say in our camapign
Buy our exclusive Tudeley Tea
Your support could help save hundreds of acres of beautiful green belt countryside in the Parish of Capel.Tunbridge Wells Borough Council has spent huge sums of money on the development of its draft Local Plan. A good proportion of this has been spent on consultants...
read more
You may have seen that the Government has recently published a white paper titled 'Planning for the Future', which sets out the council's proposals for reforming the planning system, to meet increasing requirements for housing across the country. As you would expect,...
read more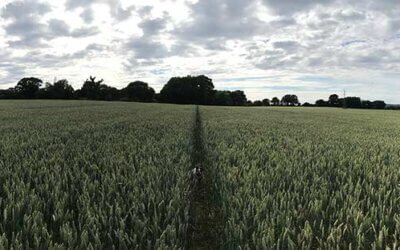 With summer upon us, we are launching a photo competition, with the results being announced at the end of August. Its your chance to get creative and show everyone what Capel means to you and why it's so important that our parish, its character and its assets are...
read more
Tunbridge Wells Borough Council has recently postponed the development of the Local Plan by six months. When explaining the delay, Council Leader McDermott declared that "it is evident from… the comments received that further work is needed in relation to a broad...
read more

Regulation 19 consultations to start in March 2021 instead of August 2020 In a recommendation document from the Leader of the Planning and Transportation portfolio, which we expect to be signed off by the Council's Leader on June 2, Tunbridge Wells Borough Council...
read more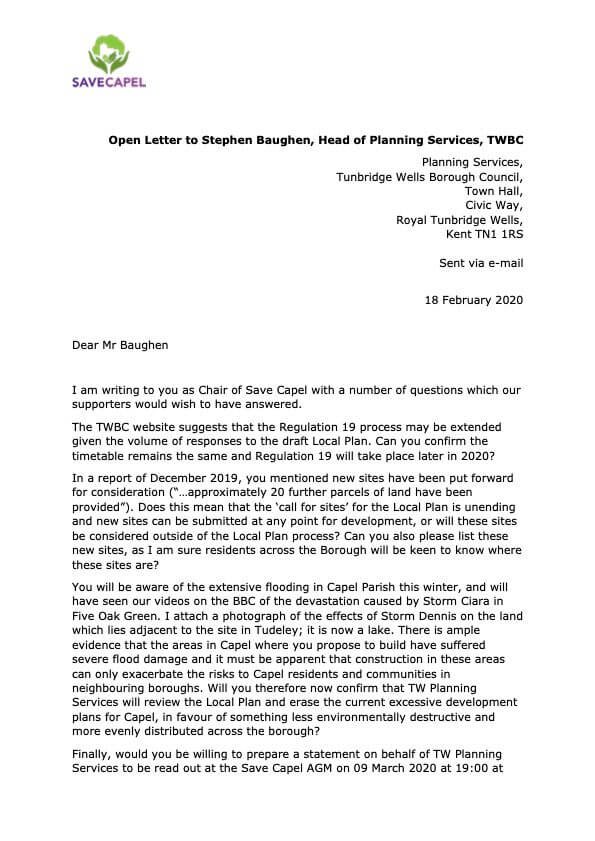 On February 18 Save Capel wrote to Stephen Baughen, Head Head of Planning Services at Tunbridge Wells Borough Council. In the letter, we posed questions relating to the Regulation 18 process and any potential delay to the Regulation 19 timetable. We also called for...
read more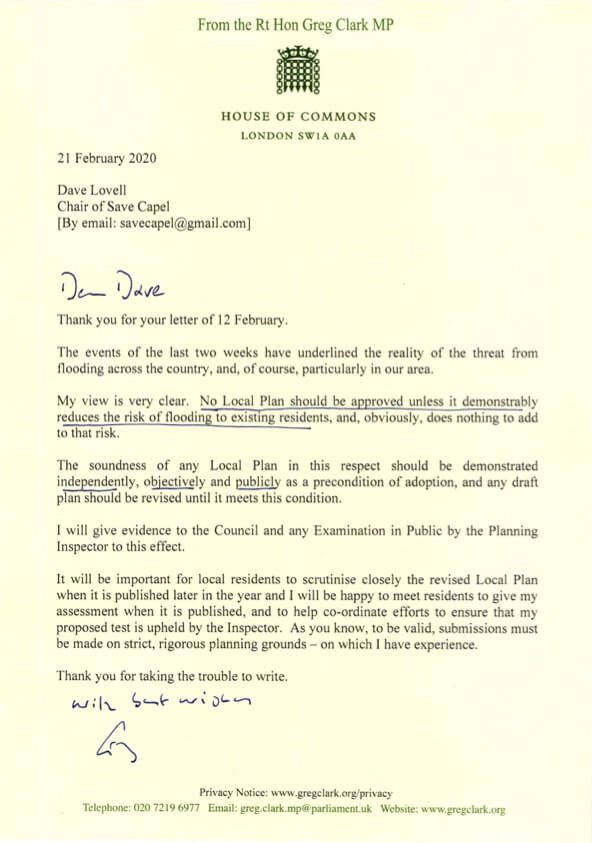 On February 12 we wrote to our elected representatives, the Rt Hon Greg Clark MP and Councillor Carol Mackonochie, to ask how they will be working to ensure any development in the area does not add to the misery suffered by local...
read more

Below you will find the contents of a letter sent to Stephen Baughen at Tunbridge Wells Borough Council, registering our deep concerns about the charrette process which has been arranged and publicised by Hadlow Estate. At the time of publishing this post, we are...
read more
Yesterday evening (February 24th) Hadlow Estate (HE) and its planning consultant, Turnberry, invited the Capel Parish Council (CPC), two representatives of Save Capel (SC) and a representative of the Capel Green Belt Protection Society (CGPS) to a presentation...
read more
On December 17th, Tunbridge Wells Borough Council's Head of Planning Services, Steve Baughen, gave Chairs of the Borough's Parish and Town Councils an update on the Reg. 18 consultation submissions received in relation to the Draft Local Plan. We believe this note is...
read more